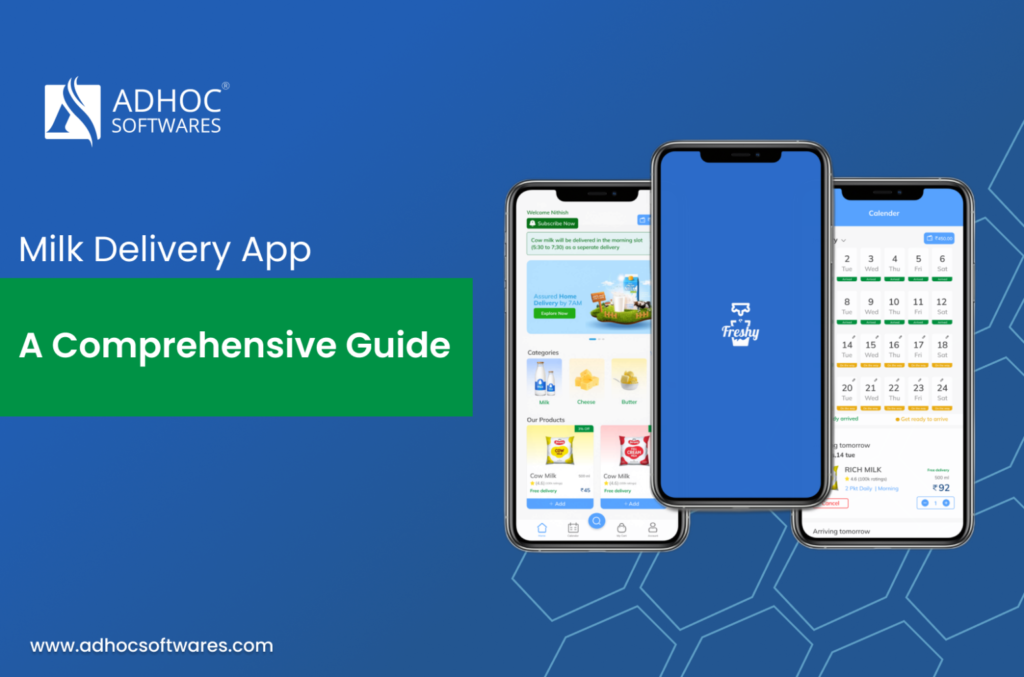 Table of Contents
A milk delivery app allows customers to order fresh dairy products like milk, yogurt, cheese, and eggs and get them delivered to their doorstep. This on-demand convenience helps people save time and effort compared to grocery shopping.
With hectic modern lifestyles, a milk delivery app meets the need for quick, simpler solutions when it comes to essentials like dairy. Let's examine how these apps work, key features, and the costs involved in developing a platform.
How Do Milk Delivery Apps Work?
Milk delivery apps function through an on-demand model. Customers can place orders for their dairy needs either for one-time delivery or as a recurring subscription.
The app provides flexibility to choose delivery slots for ultimate convenience. Once an order is placed, delivery partners pick up the items from the nearest fulfilment hub and deliver them to the provided address within the promised timeframe.
Users have visibility into the entire process through real-time tracking and status updates. Seamless online payments and flexible delivery options are why milk delivery apps provide such a valued experience.
What Are the Key Features of Milk Delivery Apps?
For Customers
User profiles and saved addresses
Browse products by category or brand
Order for one-time or recurring delivery
Pick delivery date and timeframe
Live order tracking on the map
Digital payments and wallets
Customer support and contactless delivery
For Businesses
Managing product catalog and pricing
Order processing and assignment
Delivery route optimization
Inventory and supply chain visibility
Data reports and analytics
Promotions and referral programs
Driver and personnel management
What Are the Benefits of Milk Delivery Apps?
For customers:
Convenience of milk and dairy delivery to your doorstep
Avoid grocery store trips to save time and effort
Get fresh, high-quality dairy products
Schedule deliveries or order on-demand when urgent
Track orders in real-time for transparency
For businesses:
Wider customer reach beyond physical limitations
Meet the demand for instant delivery with an app
Build loyalty through added convenience
Effective inventory and route management
Access to data for optimizing operations
Branding and promotion opportunities
The cost depends on the platform, complexity of features, design, integrations, and the location of the developer.
A full-fledged milk delivery app on both iOS and Android platforms can cost between ₹1,25,000 to ₹2,60,000 partnering with a reputed app development company.
Recurring expenses include server hosting, maintenance, and support. Businesses can start with an MVP and scale up features as demand grows to manage costs.
Conclusion
Milk delivery apps provide a convenient solution for an essential daily need. The massive market potential and recurring customer demand make this a lucrative model.
With the right app partner, milk delivery businesses can leverage technology to extend their reach and provide exceptional service. The future looks bright for this emerging on-demand segment!